(1761 – 1762)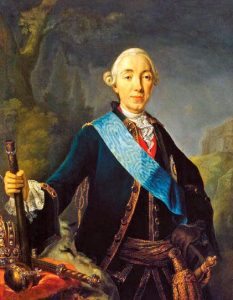 Peter III Fedorovich, the grandson of Peter the Great, the son of Princess Anna and the Duke of Holstein, was born in Kiel. Called to Russia by her aunt, Elizaveta Petrovna, after the adoption of Orthodoxy, was declared the heir to the throne.
In 1745 he married the princess Anhalt-Zerbst Sophia-Augustus, who was called at the anointing of Ekaterina Alekseevna.
In 1761, after the death of Elizabeth Petrovna entered the throne.
The main reforms of the reign are as follows. Decree on the freedom of the nobility, i.e. liberation of the nobles from compulsory service. Destruction of the secret chancery. Establishment of a state bank. Termination of the persecution of dissenters.
Attachment to everything German. Assignments of Prussia, unprofitable for Russia and caused by a personal location to Frederick II. The intention is to take away the monastic lands. Preference for his Holstein detachment before the Russian guard, which was dressed in German uniforms and had to learn the Prussian military system. Peter III wore a Prussian uniform and gave preference to the Prussian order. All this caused a coup d'état which the Guards did in favor of Catherine.
June 28, 1762 Peter III signed abdication, was sent to the Ropsha Palace, where he died on July 5 of the same year.